Note for preorder
Preorder is a widely used method among transformer collectors around the world. Third party toy makers' biggest spending is on preliminary design phrases. Once a design is passed, they will announce their product and pre-order information to the community, via their social network profiles or TF dealers. Preorder helps toy makers to estimate the market size, budget for production and pricing. Depending on which country you are located, preorder may be full amount upfront or deposit only.
Do I have to preorder?
Simple answer, usually you do not. For my own collection, I had never preordered anything in the past and I always got what I need (maybe not at earliest time or best price). TF sellers do not just pass customer pre-orders to the toy makers, they would commit their own fund to get the extra amount. You can buy one of this extra amount if you did not preorder in the first place. However, for some extremely popular toys/figures, pre-order will not only assure you receive the toys at the earliest time, also secure the best price (or a reasonable price) for you.
What you can/cannot expect from pre-orders?
Savier's Toys sources our toys from China mainland distributors. Sourcing from China gives us better prices for most of the brands, flexible restock-ability on small quantity, easy communications when dealing with part replacement. Even when manufacturers' pre-order deadline already passes, we can still sign you up in the pre-order queue as "luck-based", which means if quantity received is more than expected, you still have a chance to receive the toy. However, Chinese channel is usually slower and has no certainty on the final price throughout the pre-order period. Therefore our pre-order works differently from other sellers in following ways:
We only charge AUD$5 deposit for any pre-orders, the deposit is refundable before we start shipping toys from China;
We will guarantee the availability of the pre-ordered toys unless you are in the luck-based queue;
We will not provide final pre-order price since we don't know out total cost until last minute. However, we will be trying our best to deliver the best price for our Aussie customers;
Since we cannot provide the final price from the start, you do not have obligation to buy your preorder. We will refund you if the toys haven't made their way to Australia;
We cannot guarantee the release date is accurate. Delay is expected from time to time;
We will provide after-sale support to all our customers to the extent the manufacturers can provide.
Type of pre-order (updated)
In order to serve Aussie TF collectors better, we make up four types of pre-order transactions and will show "Pre-order type" in the listing. Four types are:
Pre-order (official release/guaranteed), means toys are not available yet, manufacturers will be making them and release when they are ready;
Pre-order (official release/luck-based), means manufacturers' deadline is already passed, other sellers might not be able to add you in at all but you can put you into a luck-based line in case you can catch extra availability.
Pre-order (restocking/backorders), means there are toys available from our suppliers, we will just put up a link to see how many out there want it so we can import altogether;
Pre-order (pre-sale), these are the stocks that are already leaving Chinese port, will surely arrive safely in Australia as long as the plane don't crash.
Pre-order process
Once a pre-order item is up in store, it is usually located in Category: Toy_group/Brand/item_name or Preorder_items/item_name. It is also shown in "New In" section as the system considers it is a new product. Preorder items are created as "virtual" item. We recommend you register on our site for pre-order as we will maintain contact with you for further updates. Only deposit is needed for pre-order items, the deposit is usually AUD$10.00. Preorder items are created as "virtual" item, therefore, no shipping cost will be paid.
Once the item arrives, we will inform you via email and arrange shipment and balance payment.
Release date
We will give each preorder item a rough release date, which is given by manufacturers. However, such date has not been very accurate in the past. Toy makers may change the date from time to time, or delay it at their own discretion. Therefore, the release date is a guideline only, do not take it too seriously.
Refund-ability of pre-order deposit
Pre-order deposit is refundable at any time before the item is leaving its country of origin.
Pre-order price (or Projected price)
In China, wholesale prices are given usually AFTER production is finished, distributors of different layers do not know their cost of goods even until receive them. In the past we have been trying to give a guess on the final price in Aussie dollar term. However, we weren't very accurate on that. Therefore in future, we just decide not to give out a final guessed price anymore. In order to avoid you are pre-ordering an item with uncertain potential that paying more, we will only cover brands that we are confident we can provide a good price (if not the best). These brands are DX9, Fans Hobby, Fans Toys, Iron Factory, Generation Toy, Gigapower, KFC, Mech Planet, Open and Play, Perfect Effect, TFC, TFM, Unique Toys, Zeta Toys etc.
After-sales
After-sales for TFs is tricky, as a collector, you will require some level of patience and some basic DIY skills. Why? Because the issue will never be just the faulty toy in your hand right now, instead, you want to make sure that, hopefully, hundreds (if not thousands) of toys you already had as well as hundreds (if not thousands) of toys you are going to have in future will not bring headaches to you. Item faulty does happen, from 1 in every 20 in 3rd party toys for some brand to 1 in 200 in official ones.
Some of my own stories here:

I bought KFC (not) Blitzwing for myself a couple of months ago. The landing gear design is really unintuitive, so I broke it on the first try. I called Keith, who is the owner of Keith' Fantasy Club. I told him it was my fault, I broke it. I am happy to pay for another landing gear if there are spare ones available. Keith sent me one for free.
I bought DX9 (not) Swoop. On the first time transformation, I found that hip-bone part consists of two parts (left and right), but mine got two left parts connecting together. So I contacted Mr. Luo, owner of the DX9. Due to the design of the toy, that particular part cannot be DIYed on easily. In the end, I received a free replacement.
I bought "Civil war dinosaur set" from Iron Factory, but two accessories are missing in the box. Solved.
I guess these are just part of our life as a TF collector.
For 3rd party TFs
Option 1: Facebook or their websites
Most of the 3rd party TF makers have a facebook account now. You can try to contact them via Facebook. Tell them the problem you have, either two left hands on each arm or missing tail fin in jet mode, etc. If the toy maker is active on their Facebook communication, then they will tell you what they are going to do. Usually, with photo proof, they will send you a correct part for you to DIY on. If they are not very active on Facebook (remember the Great Firewall), try email (not Gmail, remember the Great Firewall), Wechat, QQ or …
Option 2: Tell us
Let us know the issue and we will go through the Option 1 with toy makers for you. If we failed on their Facebook profiles or English websites, we usually can still find them in Chinese Weibo, Wechat or QQ.
For official toys
Official toys have no after-sales from our suppliers at all, but their faulty rate is really low. If it really happened, contact us we will have to solve it case-by-case.
What if the issue is more than just a missing part?
Some issues are big, a design issue that some redesign is needed to make the transformation functioning. In these cases, 3rd toy makers will usually fix it in the medium term, and release a fixed part or offer some solution for buyers. We can hope on that.
We never experienced redesign issues in official toys.
Some useful contacts:
Facebook:
Badcube | DX9 | FT | IF | KFC | MMC | MT | Perfect Effect | TFC | TW | UT | X-Transbots
Weibo:
Badcube | DX9 | FT | IF | KFC | MMC | MT | TFM | TW | UT | X-Transbots
Packaging and Delivery
All TF sellers in the world are masters of packaging and delivery (not just us). Why?
We can hear the ticking clock in your mind after you click "Add to Cart". If you receive your purchase at 1:00 am, we will make sure that we go to post office first thing in the morning.
You will not complain about a dent on the shipping box of your new TV, but a dent on a TF box will reduce your excitement by 10%.
 We understand how to balance among toughness, weight, and dimensions of our packaging.
We automatically refund the changes if Auspost charges less than you paid.
Item conditions
From all toy makers, TF distributors to retail sellers, all parties involved are trying their best to deliver the toys to our customers in the best condition. There are mainly two aspects to evaluate the box condition: angles and seals.
Box angles
A good conditioned angle looks like the following picture, most of the time our items are in this condition after international shipping.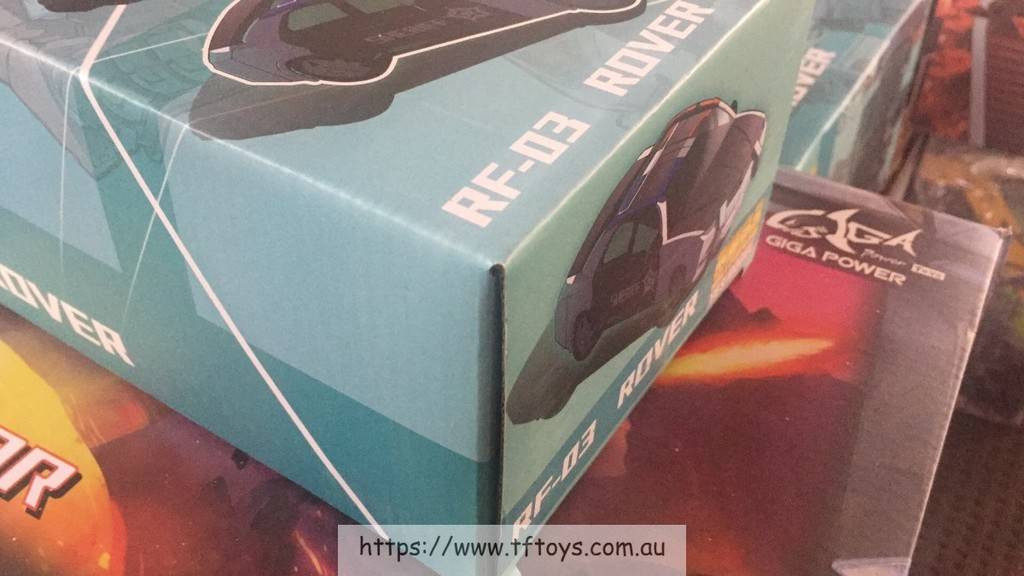 However, sometimes angles are dent during transportation. Bad handling by shipping companies is just not 100% avoidable.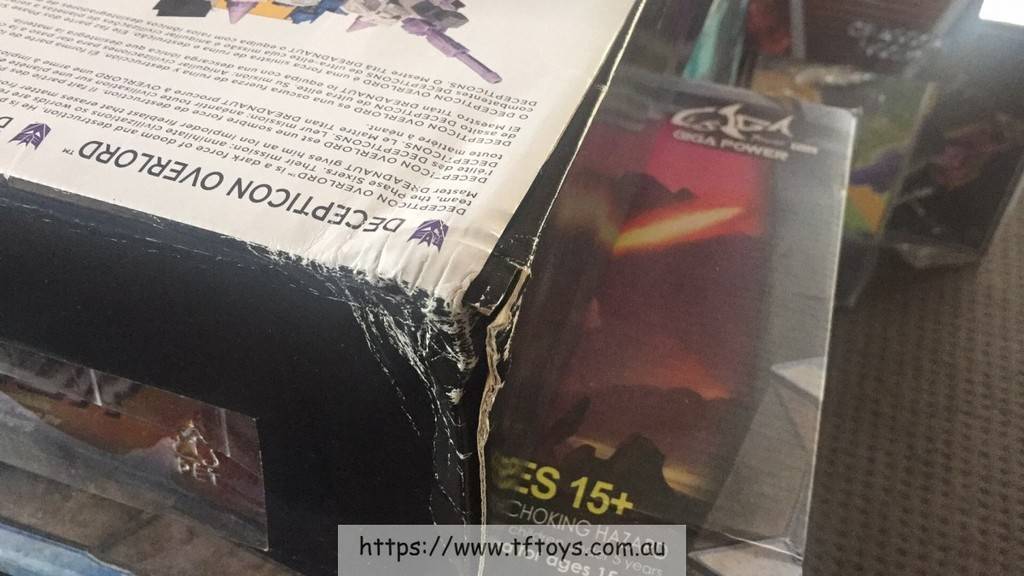 We will inform our customers about the obvious damage on boxes or provide a discount from the original price. This policy will be rigidly applied for 3rd Party TFs but maybe not for certain Hasbro toys series that are not considered to be collectible grade.
Seals
KFC toys have the best seals packaging boxes so far while TW toys do not have seals.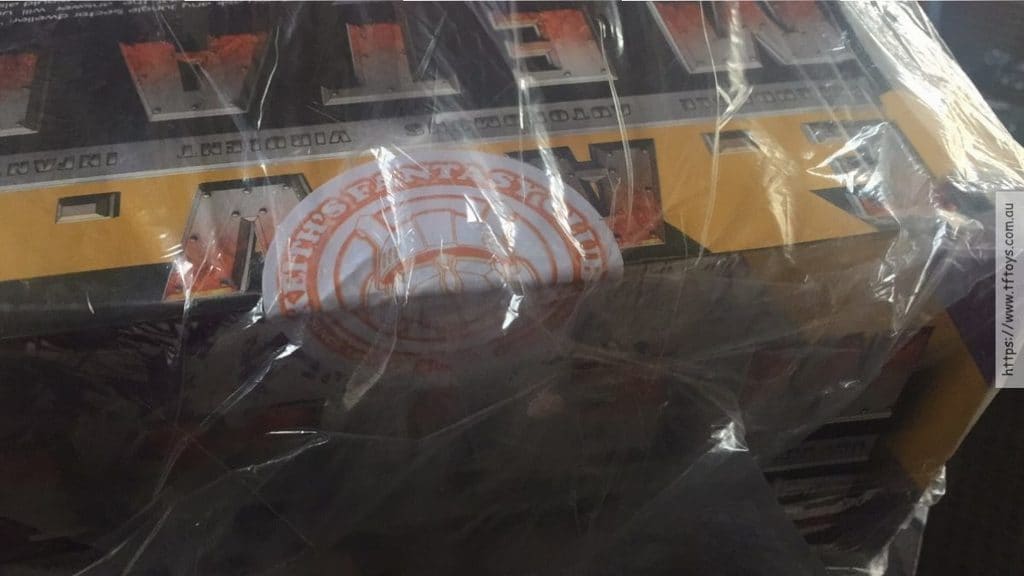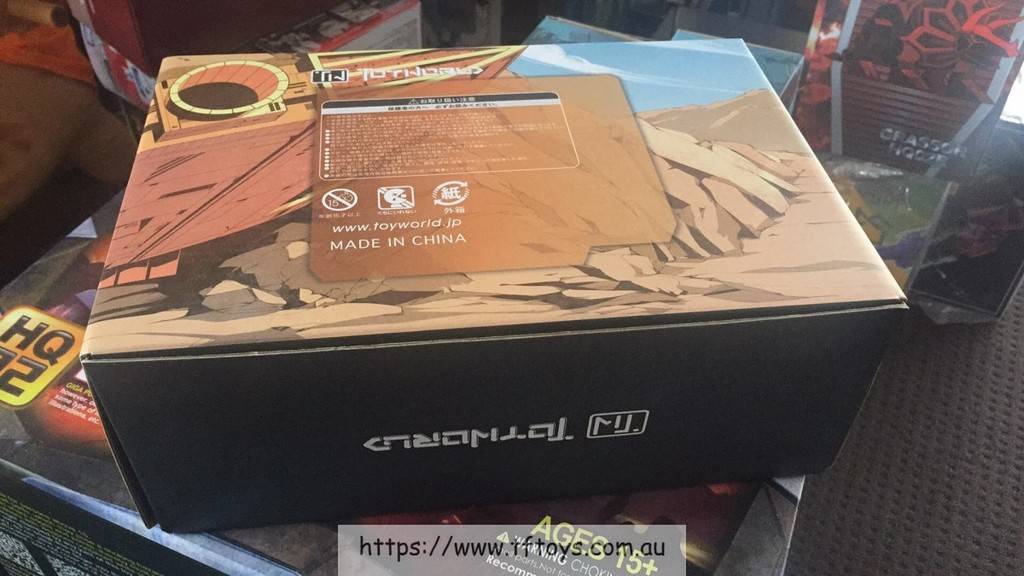 We do not want to see so called "double-seal" on the box, which might suggest that someone had opened it and sealed again. This is mostly true except for several occasions seal was broken by the toy makers to insert some add-ons, improved parts, or bonus gifts after manufacturing has been done.
Packaging
We pack our items not only carefully but also try our best to save postage. In fact, for a single item, lots of the boxes are tailor-made.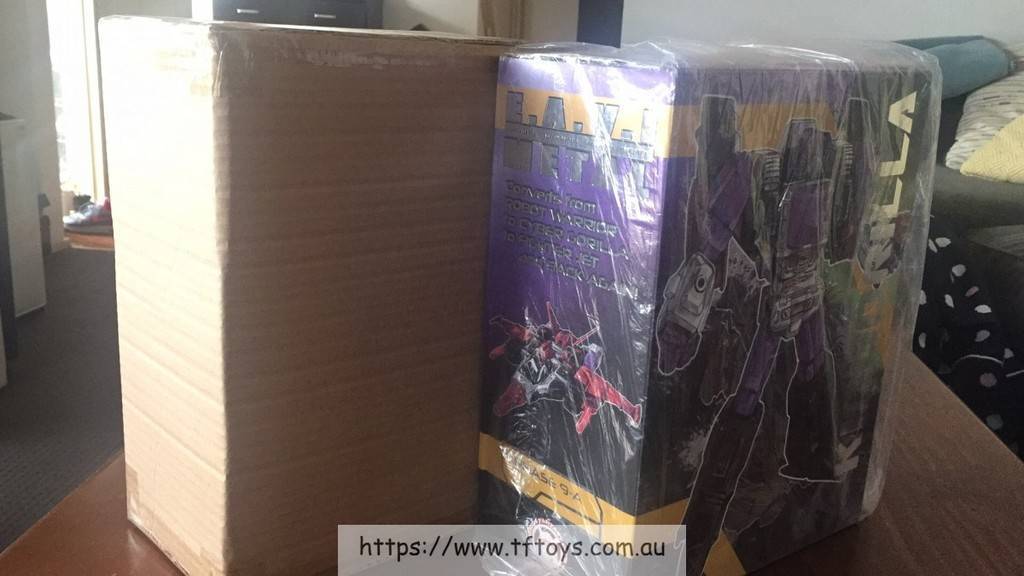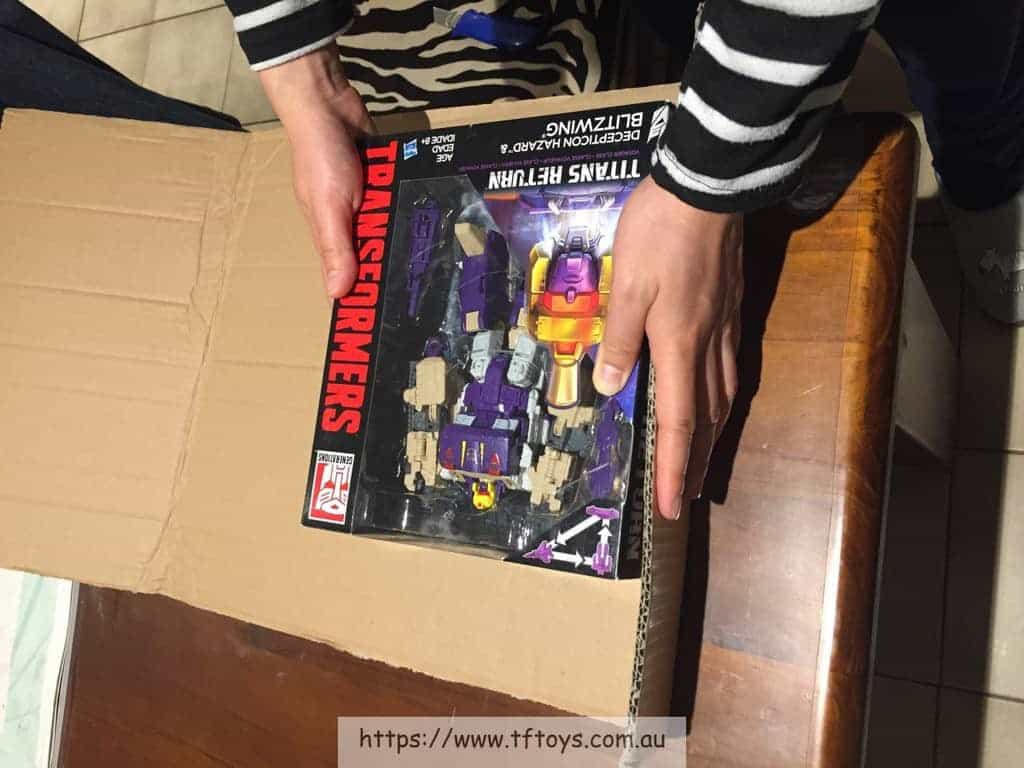 However all the efforts above, we still have to disclaim that damages during transport do happen though none has ever happened to us so far. Due to the expensive domestic postage in Australia and long distance Australia is located from "origin of manufacture", we would like to reserve the right to refuse return in occasions that we believe the toy itself is good and intact. We also do not recommend new TF collectors put too much concern on the box conditions.
International shipping 
Our business is totally relying on a service that was not available 10 years ago, which is Mass Cargo Aggregation and Forwarding Service provided by Chinese logistic companies. A typical journey of our toys is like this:
Day 1: Our supplier informs us Item X is available for shipping;
Day 2 (or sometimes day 1): Item X is waiting for pickup from our supplier;
Day 2: Item X is picked up by local courier;
Day 3: Item X arrives regional depot;
Day 3: Item X is sent to Aggregation Centre for international shipping;
Day 4: Item X arrives regional depot near Aggregation Centre;
Day 4: Item X arrives Aggregation Centre, received and signed off by Aggregation Centre;
Day 5: Item X leaving Aggregation Centre;
Day 6: Item X arrives in relaying country/operator (Singapore or Malaysia), where tracking information changed to English;

Day 6~8: Item is transferred through via all types of arrangements until arrives in Australia;
Day 9: Australian Custom clearance;
Day 10: Released by Custom, if Custom decides to inspect/random check this parcel, then 4 more working days are delayed;
Day 14 (or 18 if inspected): Arrives our door (delivered by Auspost, Toll, DHL, TNT or other cooperating partners) and ready to ship within Australia.
During these days, four different track numbers are given by all different companies at different stages or via different routes and we just pray all the time for them to safely arrive.
Domestic postage
The postage in our store is calculated by Australian Post, which is our main delivery method. We simply recommend "regular" service for all our items. The waiting time is longer, but save significant postage in long term.
Combined shipping
Yes! We do combined shipping. The postage calculator will calculate your multiple items based on weight automatically, and if the real charge by the post office is lower than calculated result, we will always refund postage change spontaneously after item sent. Here though, we would like to make another disclaim that, the postage calculator is provided by other parties that is out of our control. Should any calculation be wrong, say, sending WA for $2, we reserve the rights not to send items based on the wrong postage calculation. Instead, we will inform you (and apologize) with the correct postage and seek further instruction from you.
Thank you for reading. If this post does not answer some of your questions, please let us know or simply leave your comment below.